On Fermentation
With all the recent talk of the
Reedsburg Fermentation Fest
and Justin's current adventures in beer brewing (where's that long promised post, JH?!), I got to thinking about how my knowledge of fermentation is actually pretty rudimentary. I mean, I know that it has something to do with microorganisms changing food in ways we want (as opposed to ways we don't want, as with decomposition), but what do all those different products--yogurt, pickles, beer, wine, cheese, bread--really have in common?
I know enough to know that the best guide to all this is
Wild Fermentation
, by Sandor Ellix Katz, also known as Sandorkraut, the self-proclaimed "fermentation fetishist." But since I haven't read that book (shame on me!), here's the bits and pieces I've thus far been able to glean from various sources.
Scientifically, the process looks like this: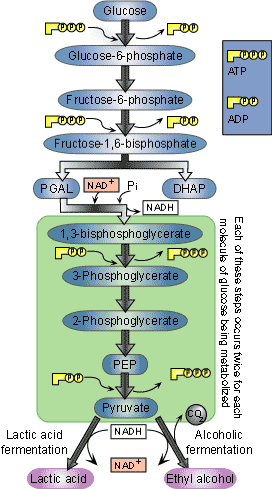 Some kind of carbohydrate turns into some kind of acid or alcohol (or carbon dioxide, I think). With wine and beer and cider, obviously, it's alcohol that's produced. With bread, carbon dioxide. With sauerkraut and yogurt and kimchi, lactic acid. Different bacterial strains and yeast, with different inputs, yield different outputs. Basically.
There a bunch of reasons that people do this, among them preservation (the development of certain acids and alcohols delays the decomposition of food), taste (yum!), and health (many people think that healthy bacteria have
probiotic
characteristics that promote body functions; Sharon Astyk has written that during her pregnancies, because of morning sickness,
fermented foods were the only things she could stomach
).
There's a really fascinating list on Wikipedia of
fermented foods by region
:
Worldwide: alcohol, wine, vinegar, olives, yogurt, bread, cheese
Asia

East and Southeast Asia: amazake, asinan, atchara, bai-ming, belacan, burong mangga, com ruou, dalok, doenjang, douchi, jeruk, lambanog, kimchi, kombucha, leppet-so, narezushi, miang, miso, nata de coco, nata de pina, natto, naw-mai-dong, oncom, pak-siam-dong, paw-tsaynob, prahok, ruou nep, sake, seokbakji, soju, soy sauce, stinky tofu, szechwan cabbage, tai-tan tsoi, chiraki, tape, tempeh, totkal kimchi, yen tsai, zha cai

Africa: fermented millet porridge, garri, hibiscus seed, hot pepper sauce, injera, lamoun makbouss, laxoox, mauoloh, msir, mslalla, oilseed, ogi, ogili, ogiri
Americas: chicha, elderberry wine, kombucha, pickling (pickled vegetables), sauerkraut, lupin seed, oilseed, chocolate, vanilla, tabasco, tibicos
Middle East: kushuk, lamoun makbouss, mekhalel, torshi, boza
Europe: rakfisk, sauerkraut, ogórek kiszony, surströmming, mead, elderberry wine, salami, prosciutto, cultured milk products such as quark, kefir, filmjölk, crème fraîche, smetana, skyr.
Oceania: poi, kaanga pirau (rotten corn), sago
The prevalence of fermented foods in Asia gives an idea of where the process originated and came into its own. These makes me want to eat try all of these.
What do you all know about fermentation? Sounds pretty cool, doesn't it?